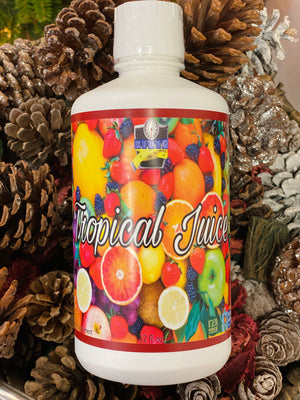 Tropical Juice
Sale price Price $59.00 Regular price $69.00 Unit price / per
It is an exotic fruit juice like Goji, Camu, Granada and Moringa.
TROPICAL JUICE: it has the most popular fruits that contain more antioxidants
 Antioxidants are chemical compounds that the human body uses to eliminate free radicals, which are very reactive chemical substances that introduce oxygen into the cells and produce the oxidation of its different parts, alterations in DNA and various changes that accelerate the aging of the body.

Es un zumo de frutas exóticas como el goji, camu, granada y moringa.

JUGO TROPICAL: tiene las frutas más populares que contienen más antioxidantes.
 
  Los antioxidantes son compuestos químicos que el cuerpo humano utiliza para eliminar los radicales libres, que son sustancias químicas muy reactivas que introducen oxígeno en las células y producen la oxidación de sus diferentes partes, alteraciones en el ADN y varios cambios que aceleran el envejecimiento del cuerpo.
 
Beneficios de los antioxidantes:
VITAMINAS Y MINERALES
Benefits of Antioxidants:
VITAMINS AND MINERALS
Vitamin C: All fruits and vegetables, especially citrus, kiwi, strawberries, tomatoes, broccoli.
Vitamin A: Eggs, carrots, spinach, cauliflower, cabbage.
Beta-carotene: Carrots, spinach, cauliflower, cabbage.
Vitamin E: All oils, wheat germ.
Zinc: Beef, seafood, nuts, cheeses.
Selenium: Fruits and vegetables, legumes, whole grains, dairy.
Copper: Liver, shellfish, nuts, carrots.
Another source of antioxidant are exotic fruits such as Goji, Noni, Acai, Pomegranate, Camu, Mangosteen, Aloe, Pineapple, Prickly Pear, Grape Seed Extract.