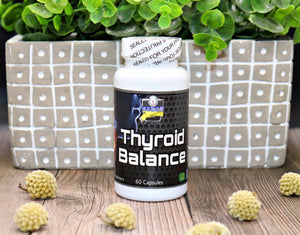 Thyroid Balance
Sale price Price $79.00 Regular price $79.00 Unit price / per
Take 1 Capsule with plenty water on an empty stomach daily
tomar 1  cápsula con abundante agua en ayunas diario
t is a supplement of green-blue algae AFA (Aphanizomenon Flos Aquae) grow wild in Lake Klamath of Oregon (USA), one of the purest and cleanest lakes in the Americas, which continuously receives water from melted snow and from 17 water sources most of them coming from the volcano at whose foot it is, which makes its water very rich in minerals.
Blue Green Algae provide nutritional properties and ideal benefits within a balanced diet to be rich in minerals such as iron and vitamins of group B.
 
Amino acids help stimulate the lymphatic system and promote good health of the
thyroid gland.
Es un suplemento de algas verde-azules AFA (Aphanizomenon Flos Aquae) crecen silvestres en el lago Klamath de Oregon (EE.UU), uno de los lagos más puros y limpios en el continente americano, que recibe continuamente el agua de la nieve derretida y de 17 fuentes acuíferas la mayoría de ellas procedentes del volcán a cuyo pié se encuentra, lo que hace que su agua sea muy rica en minerales. Las Algas Verde Azul aportan propiedades nutricionales y beneficios ideales dentro de una dieta equilibrada al ser ricas en minerales como el hierro y vitaminas del grupo B.
 Los aminoácidos ayudan a estimular el sistema linfático y a promover la buena salud de la glándula tiroides.
Contains 60 capsules
ingredients: Blue Green Algae and Biominerals
betacarotene, ascorbic acid (vitamin c), vitamin E, thiamine (vitamin B-1), Riboflavin (vitamin-B2) Niacin Pyridoxine (vitamin-B6), Cobalamine(vitamin B-12), biotin, pantothenic acid (vitamin B-5), calcium, iron, iodine, magnesium, maganese, zinc, chromium, potassium, folic acid, choline, selenium