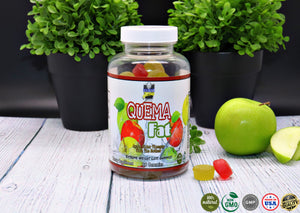 Quema Fat Extreme Weight Loss Gummies (3 meses)
Sale price Price $149.00 Regular price $149.00 Unit price / per
Apple Cider Vinegar With The Mother
Quema Fat Apple Cider Vinegar with The Mother Gummies , uno de sus beneficios es que ayuda a mejorar tu sistema digestivo para que puedas ir al baño, puedas digerir mucho mejor los alimentos y absorber sus nutrientes. Estas gomitas de vinagre de manzana podrán depurarlo que tu cuerpo no necesita y elimina las toxinas. 
Quema Fat pueden ayudarte a proteger tu sistema inmune, a controlar los niveles de azúcar en la sangre e incluso puede prevenir altos niveles de colesterol.
Si sufres de inflamación o muchos gases, Quema Fat ayudan aliviar esos problemas al mejorar tu metabolismo. 
Quema Fat pueden prevenir que se formen bacteria, esto quiere decir que pueden prevenir infecciones digestivas, intestinales y hasta en el tracto urinario. Es una manera de poder prevenir y cuidar tu organismo.
Gomitas